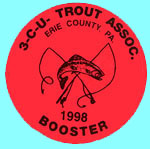 Steelhead fishing in Erie isn't good totally by accident. You might even say it has been getting a great deal of help, especially since 1966.
That's the year local Conservation Officer Norman Ely got some local sportsmen together and formed what is now the largest Pa. Boat & Fish Commission's cooperative nursery in Pennsylvania.
The 3C.U. derives it's name from club names of original franchises. 3C.U. in 2005 stocked over 140,000 of the 900,000 trout put into the lake's many tributaries. Finding a good hole or that secret spot, is a lot easier thanks to 3C.U.
The clubs charter members, Bob Hetz, Jimmy Dallas, Gordon Bannister, Jerry Honard have been serving the community on a volunteer basis for the past 40 years. Other original charter members, who are now deceased are: Wolfe Stromeyer, Norman Ely, John Snyder, Marty Sinare and Jimmy Dallas.
The gracious financing organizations like Gem City Outdoorsmen, Erie County Sportsmen, Wesleyville Conservation and Trout Unlimited, the Sons of Lake Erie, and the Pennsylvania Steelhead Association have contributed to the good fishing that we have today.
Starting with just 800 fish taken from Thomas Run in 1966, 3C.U. has been able to average 45,000 fish a year through 1988, increasing to150,000 per year to date, 4,500,000 fish overall.
With numbers like that, 3C.U. has not only been able to stock fish in the lakes tributaries but supply fish for many charitable organizations. Over 3,000 fish for the children's derbies in Edinboro and Girard, the Boy Scouts, Veteran's Hospital, Soldier's and Sailor's Home, Harborcreek Youth Services, Lawrence Park Youth Services and other have all benefited from the supply of 3C.U.'s stock.

Many children, veteran's and sportsmen have experienced the thrill of landing a trout through the cooperative efforts of local organizations and 3C.U.To provide services such as these, the volunteer organizations of 3C.U. operates and maintains 8 nursery sites throughout Erie County. These sites are made up of about 2,200 feet of raceways, ( 2 Foot Deep and 5 Foot Wide) costs $ 10,200 annually for feed and maintenance.

The most recent addition to the series of raceways run by 3C.U. is the Norm Ely , 1991, addition which cost $ 8,600. 3 C.U.s newest raceway , ( 270 feet ) is shared with the Pa. Boat & Fish Commission. This raceway was built at a cost of $ 27,000 dollars, a grant of $ 15,000 dollars from the U.S. Coastal Management was very helpful.

 ( If you are wondering where your button money goes, this is part of it ) The healthy breeding stock of Erie County not only provides good safe fishing for Erie's sportsmen and organizations, but also is and active environmental and conservation tool for keeping Erie's fish healthy and plentiful. 3 C.U. will continue, as it has for the past 40 years, to be a leader in Erie County fish production, through the community's donations and assistance.

To get involved by donating or volunteering, contact charter members, Bob Hetz ( 474-5635 ) 3 C.U. is strictly a volunteer organization, all labor and maintenance are provided by it's members. So, the next time somebody asks you if the fishing is good, tell him or her, " yes, thanks to 3 C.U! "